Kerala Fishing: Valiathura (Thiruvananthapuram District)
The Marine Fisheries Census of Kerala (2010) lists Valiathura as both fishing village and landing centre.
Valiathura is a suburb of Thiruvananthapuram, 5km southwest from the city centre, and in earlier times the only port along the South Kerala coast. Since Kochi became the major port, its pier was no longer used andis now in poor shape. Its fish market is a beach market, held on the sandy beach when boats land.

These two photos above exemplify the most dominant fishing craft in Kerala. Compare this relatively simple craft to the sophisticated trawlers used on the north caost - eg. at Beypore.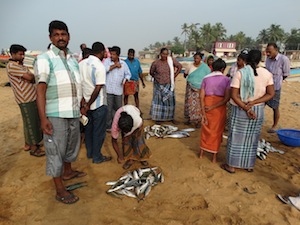 The market at Valiathura is held on the beach sand. These vendors have just bought their fish, and will eventually move closer to traffic in the streets.

Vendors selling their fish on the street nearest to the beach and landing centre.

The street adjacent to the fish market also draws other vendors, such as vegetable vendors.

A fisherman's house. Compare this simple dwelling with the more affluent fishermen homes of the north - for example at Chavakkad. Note the outboard engines being repaired.

A vallam being rowed.

Kattumarans. Those below are rowed with planks -- i.e. not contoured oars.

A view of Valiathura fishing village - from the poorly maintained peer, which is no longer in use. This peer used to be the most prominent port of Trivandrum.