Kerala Fishing: Chavakkad (Thrissur District)
The Marine Fisheries Census of Kerala (2010) does not list Chavakkad as either fishing village and landing centre.
Chavakkad is a fishing harbour in the Thrissur District. It is on the coast of the Arabian Sea, 27km east of the city of Thrissur.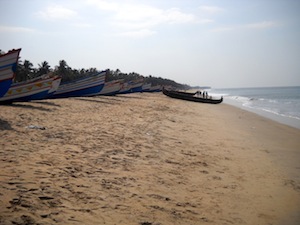 A group of vallams lining the beach at Chavakkad.

An older model of vallam.

Close-up of the older model of vallam.

The fishermen village at Chavakkad. Compare this relatively affluent home with the homes of fishermen in the south at Vizhinjam.